Detailed Assessment of XM Bonuses and Promotions
XM promotions differ according to geo-specific brokerages to conform to the regulatory clearances of a particular country. In general, the broker offers four distinct promotions with different benefits, but only a couple of these are offered to traders from the EU. All XM offers are subject to different terms and conditions, which will be outlined in a separate section. Here is a detailed description of the XM bonuses that are currently available to traders.
XM Deposit Bonus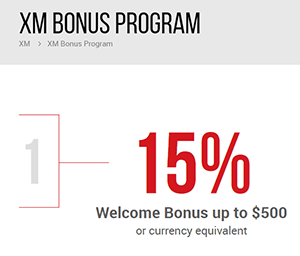 The welcome bonus program is designed for all new XM traders and grants a 15% deposit bonus for maximum trading credits of $500. There is no restriction on the number of deposits that are eligible for the bonus as the trader can avail the entire bonus amount through multiple smaller deposits made across different trading periods. The bonus amount will be credited to the trading account instantly as separate trading credits within 24 hours of every deposit until the maximum threshold of $500 is reached. The bonus amount itself cannot be withdrawn, but the profits made from the bonus can be withdrawn without any restrictions. However, any such withdrawal will also lead to a proportional removal of the bonus credits.
The welcome offer from XM may not sound fascinating in the present context, especially when new and competitive brokers promise anywhere from 50% to 300% bonuses on a single deposit. The advantage of an XM welcome bonus is that it does not impose any severe trading restrictions, and neither does the broker lock your account from withdrawals. Therefore, it is certainly far better than initiating a dispute with the broker concerning the bonus terms and conditions, which could have disastrous consequences for your trading journey. We would also like to stress that this program is not available for EU traders.
XM Account Types and Loyalty Programs
The XM loyalty program is devised for rewarding loyal traders and long-term customers, especially those with a high trading frequency. The loyalty program is a rewards-based incentive program where traders can redeem their accumulated loyalty points for trading credits or cash bonuses. The program also enables clients to enroll in invitation-only events, where they can become eligible for seasonal promotions, exclusive rewards, and other gifts.
The XM loyalty program is divided into four categories. The first category is the Executive program, where new account holders can earn up to 7 XMP (XM points) per standard round lot traded. Continue trading for more than 30 days, and you could get bumped up to the Gold program, which offers up to 10 XMP per standard lot. Clients who trade for more than 60 days are awarded the Diamond status, which qualifies for 13 XMP per lot. Any trader who completes 100 days is elevated to Elite status, the topmost category in the loyalty program, where traders can earn up to 16 XMP per lot. However, if you don't trade for prolonged periods, such as the number of days required to be upgraded to the next level, you will be downgraded to the preceding category.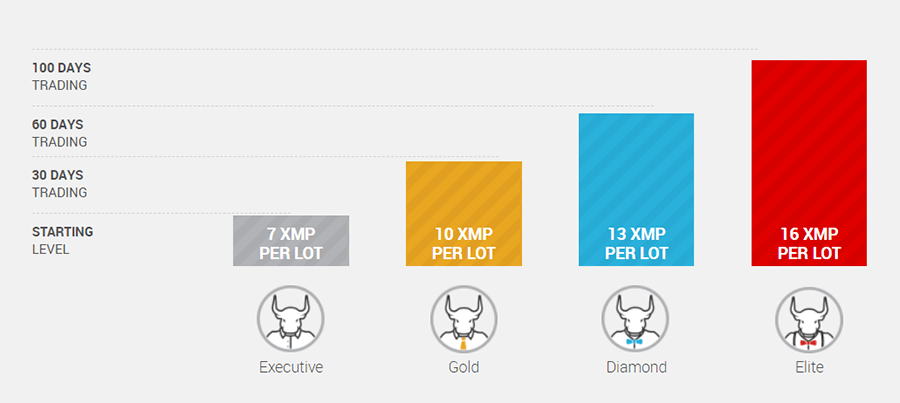 The XMP accumulated by the clients can be redeemed for either trading credits or cash bonuses. If you redeem your XMP for trading credits, you will get (XMP/3) in your account currency equivalent, which will be added as credits. However, if you redeem your XMP for cash, the cash equivalent would be (XMP/30), but it goes directly to your account equity. The trading credits bonus cannot be withdrawn, but the profits can be. The trading credits obtained through the XMP have the same terms and conditions as the regular welcome bonus, but the cash bonus added to your account equity does not have any withdrawal or trading restrictions. Unfortunately, the loyalty program is not available for EU traders.
Free VPS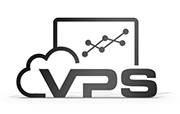 XM offers free virtual private server (VPS) access to all clients, which is a great tool for those who pursue faster transaction speeds and employ expert advisors (EAs) for automated trading. The VPS is usually a premium offering at most of the other brokers in the industry, which is why XM's free VPS offer more than justifies the lack of massive deposit bonuses. A VPS can be used to employ EAs, ensure no downtime (with 24/7 access to the markets), enjoy high-speed trading, and maintain the ability to access the accounts from anywhere. The free VPS offer from XM is available to all traders regardless of their origin or regulatory status.
No Fees on Deposits and Withdrawals
Although it has been advertised as a novelty feature, we are not really overwhelmed by this XM offer. Nowadays, most brokers, such as FBS, don't charge any fees on deposits or withdrawals, especially if the funds are deposited via e-wallets or credit/debit cards. Nonetheless, the broker also promises to waive all bank wire transfer fees for amounts of more than $200, which does seem attractive. Bank wire transfers can be expensive for some traders, but fees associated with interbank transfers and currency exchange rates are also available.
How to Claim XM Bonus - Terms and Conditions
The company does not mandate any severe trading conditions for its bonus, which makes it quite safe to trade the forex markets with the broker. Nevertheless, here are some important guidelines that you must remember before signing up for the XM promotions:
Traders are only eligible for a maximum bonus of $500 in trading credits, all of which can be availed through either a single deposit or multiple deposits.
The welcome bonus is only offered for trading and cannot be withdrawn. If the trader makes a withdrawal after obtaining the trading credits, it will be removed proportionally to the withdrawal amount.
XMP can be redeemed for trading credits, but they have the same trading conditions as the welcome bonus. Traders can withdraw the cash bonus without any restrictions.
The broker does not place any restrictions on withdrawals whatsoever.
A detailed document of the terms and conditions is provided on the website. Make sure you read and understand every usage guideline before signing up.
XM Offers FAQ
Is the loyalty program available for all traders?
No. The loyalty program is not available for traders from the EU and any other countries as mentioned in the broker's terms and conditions.
Is the welcome bonus available for subsequent deposits?
Yes. You can receive a total of $500 through any number of deposits, but once you have accumulated $500 in total bonuses, the broker may not offer any more bonuses.
Do XMP expire?
XMP do not expire, but the loyalty category may be downgraded after a prescribed number of inactive days.
Is the VPS offer available to everyone?
Yes. The VPS is free and accessible to all traders.
XM Registration - Choosing the Right XM Bonus
XM does not offer many choices as far as bonuses are concerned, but the promotional programs give us no reason to complain. The broker is adequately regulated, has an excellent track record, and offers a safe bonus program that has no conflict of interest with the traders. Therefore, we certainly recommend signing up for an XM bonus account and making use of the offers without any worries. Of course, you must read all the associated conditions to ensure that you are aware of your rights as an investor and trader.