A Detailed Look at FBS Bonuses and Promotions
---
FBS has a wide array of promotional programs from which to choose. In our FBS bonus review, we will break down all the promotions on offer so that you can make an informed decision based on your requirements. Not all bonus structures are alike, and in some cases, a few offers can be counterintuitive to your needs. You should also be aware that the offers are only provided to international traders through the broker's global brokerage and that every bonus program is subject to certain terms and conditions. Regardless, here is a list of all the FBS bonuses available to traders.
Trade 100 Bonus — No Deposit Required
The Trade 100 bonus program provides you a free $100 bonus to trade the markets, with no deposit required. All you have to do is sign up for an account and complete the verification process, which will qualify you for the free $100 no-deposit bonus. You can use the $100 to trade freely for up to 30 days, after which you can withdraw your profits by completing a minimum of 5 standard lots.
Of course, you must be in the green to be able to withdraw the profit amount, and you can only trade using the MT5 platform with 0.01 standard lot order volumes. This means that you should trade 5 standard lots within 30 days (around 20–22 effective trading days in a month) with orders worth 0.01 lots, and you are limited to a maximum leverage of 1:100 for the entire duration.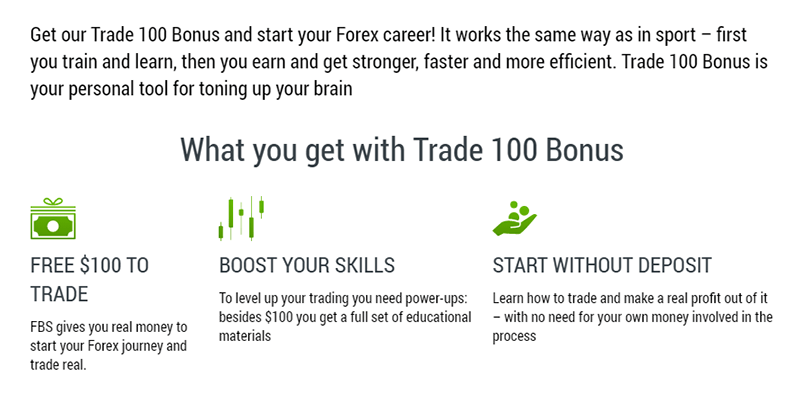 All your profits must also be at least 10 pips away from the order price, and you can only trade the markets using the major forex currency pairs. The broker has also mandated its clients to earn positive pips at the end of the trading period, with a minimum of $100 in clear profits required to qualify for a withdrawal. We feel that the trading conditions may be too stringent for all categories of traders, beginners and professionals alike, as we are not sure how any trader would be successful in meeting the entire set of trading conditions.
We also doubt whether these conditions would induce high-risk trading among traders, but if you are confident of your trading abilities, then you stand a chance to win your profits with virtually no risk. Nevertheless, even if you cannot satisfy any of the trading conditions, you can still use the $100 to trade the markets using a real account without risking your own money. It can certainly help you evaluate the broker's services under live trading conditions and with real money, but we recommend that you use it as a practice account before you invest your own funds.
Deposit Bonus — 100%
This promotion is available for all traders, where the broker provides a 100% deposit match bonus on all your deposits, with a maximum limit of $10,000 per account holder. The 100% deposit bonus is a pretty substantial amount and is by far one of the largest bonuses available in the market. As a result, you can double your trading account equity by simply depositing your starting capital, which is a huge advantage to have while trading the highly risky forex market. There is no limit to the trading period, the profit, or the trading conditions, but you must place a request for the bonus manually by contacting the customer support team within 30 days of depositing the funds.

Specific terms and conditions apply to the FBS deposit bonus program. Accepting the bonus amount does not mean that you can use it to maintain your minimum margin requirements or escape from margin calls. The bonus amount is kept separate from your trading capital but will be a part of the account equity, subject to certain conditions. The bonus amount itself can only be withdrawn after completing (bonus amount/3) standard lots. For example, a deposit of $3,000 will qualify for a 100% bonus of $3,000, but traders will have to complete a minimum of 1,000 standard lots (3,000/3=1,000), which is quite massive.
Nevertheless, the bonus amount and its profits can be withdrawn once the trader satisfies the minimum lot requirement. A word of warning though: if your account equity (minus the bonus) falls below 30% of the bonus amount, the broker reserves the right to remove the entire bonus. Hence, make sure that you understand the risks of high-leverage trading before signing up for the FBS deposit bonus program.
FBS Cashback

The cashback program is a rebate-based reward program for high-frequency traders, where traders are paid $15 per lot as a forex rebate. To give you a better understanding of how cashbacks work, let us consider the Trade 100 bonus program offered to traders. In this program, traders must complete 5 standard lots with a 0.01 order volume and a $100 capital within 30 days before withdrawing their profits. Although such a scenario is not entirely plausible, hypothetically speaking, traders who complete 5 standard lots can get back $75 every month, which is a lot of money.
Therefore, the higher the number of lots that you trade, the more you earn in cashback. Of course, this becomes more significant for larger traders with a higher account equity as the cashback promotion can offer a massive amount of rebates each month. You must manually activate the "FBS Cashback" option in your account dashboard to enjoy the FBS rebate option. There are no significant restrictions on trading, the bonus amount, or the program duration.
FBS Loyalty Program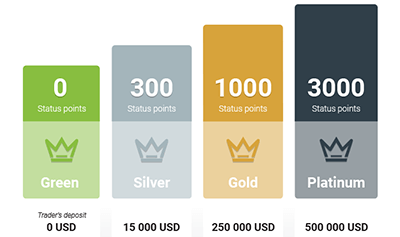 The FBS loyalty program is a rewards program that benefits higher deposits. Unlike other programs that provide loyalty points based on trade volumes, FBS has pegged the deposit amount to its loyalty program. The program has four levels: Green, Silver, Gold, and Platinum. The Green status is the lowest tier, accorded to all traders who deposit any amount lower than $15,000. It offers a few benefits, such as a free VPS, private coaching sessions, souvenirs, and a few other benefits upon accumulating several points at fixed intervals.
The Silver status is offered for deposits larger than $15,000, where points are accumulated faster and prizes include the latest smartphones, priority funding/withdrawal, and priority customer service. The Gold status is one step above Silver, with a minimum deposit of $25,000, but it offers some remarkable VIP benefits. These include a personal manager, Rolex watches, a MacBook, and exclusive gifts. For the full high-roller experience, the Platinum status is awarded to traders who deposit a minimum of $500,000.
The highest category offers ultra-luxury items such as luxury cars, premium watches, VIP event invitations, and a trip to the FBS headquarters. In layman's terms, these mighty loyalty programs may not be relevant for most traders, but if you fancy a bit of the VIP lifestyle, FBS does provide the option.
Fixed Rate Deposits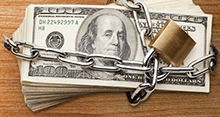 Forex currency fluctuations are one of the highest risks for traders who deposit funds from different parts of the world. The volatility of the markets provides some excellent opportunities for trading, but it can also adversely affect the trading capital while transacting from one currency to another. FBS only supports trading in USD and EUR, which means that all other currencies are converted to USD or EUR before being credited into the trading account. To prevent traders from facing the ill effects of currency exchange rate variations, the broker has a fixed rate feature, which allows the trader to deposit and withdraw funds at a predetermined exchange rate.
Although it can be a great way of stabilizing the transfer of funds, traders may not be able to enjoy the advantages of a favorable exchange rate. Once activated, the fixed rate deposit feature cannot be rolled back. In effect, the feature only serves to protect you against currency fluctuation, and you do not really reap the benefits of any favorable circumstances. Hence, carefully analyze the pros and cons of the feature before you check the option while signing up or making your first deposit.
Get a Luxury Car or Electronic Gadgets

One of the premier attractions of an FBS bonus program is the company's luxury car offer. More than eight traders have won some of the most premium cars from the broker, which include Porsche, Mercedes-Benz, BMW, Audi, and Range Rover. The FBS luxury car offer is a seasonal promotional program, but it also includes electronic gadgets for runner-up winners, such as smartphones, laptops, and other gifts. This offer is only available for international traders.
FBS Contests
FBS contest prizes are designed for competitive traders who have the skill to pit their trading prowess against other traders and reap the benefits. The broker launches several contests from time to time, with the prize money varying according to the contest terms and conditions. The contests can vary between live and demo accounts, but the prize winnings also change accordingly. Visit the broker today for information on current contests or sign up for an FBS account to get contest updates directly to your email.
FBS Referral or FBS Partner Bonus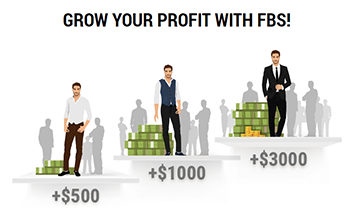 Just like AVAtrade, the FBS also provides a referral program for its clients through a partner bonus system, which allows you to refer traders to the broker and pocket some hefty bonuses. Of course, the partner program has its limitations, such as the quality of the leads, the conversion ratio, the deposit made by the referral, the number of lots traded, and the trading duration. Most of these factors can significantly impact your earning potential, but per FBS, you can earn anywhere from $500 to more than $3,000 per month through their partner program.
Of course, these figures are only valid for a minimum monthly turnover of $25,000, which means that you may be required to refer a few large traders to the platform to earn any decent income. Once these bonuses are verified, you can withdraw them straight away, without satisfying any trading conditions, or transfer them directly to your trading account for trading purposes.
The Most Critical FBS Bonus Terms and Conditions
---
FBS has outlined several important terms and conditions for its bonus programs, most of which are outlined above. Regardless, here are some vital considerations that you should remember before subscribing to an FBS bonus:
Only one bonus per IP address is allowed. If you use a shared connection, the broker reserves the right to remove your bonus and profits and block your account.
The FBS deposit bonus can be withdrawn, provided you transact at least (bonus amount/3) standard lots.
The minimum trading requirements for FBS deposit bonuses provided to referral or IB accounts are higher at (bonus amount/1) standard lots.
Traders are expected to fulfill all the conditions of the FBS Trade 100 bonus for withdrawing the profits. You will not be able to withdraw your profits if you have failed to satisfy even one of the mentioned terms.
The broker's decision on contest prizes is considered to be final.
The fixed rate program offers an exchange rate determined by the broker.
No part of the bonus will be considered for calculating the margin toward the minimum margin requirements. The broker will initiate a margin call if the account equity (minus the bonus) falls below the minimum margin requirements.
FBS Promotions and Offers FAQ
---
Do I qualify for the fixed rate deposit bonus?

FBS has a dedicated section that outlines which currencies are supported under the fixed rate promotions. Visit their website or contact customer service for more details.

Is the Trade 100 bonus withdrawable?

The Trade 100 FBS bonus is not withdrawable, but the profits can be withdrawn by satisfying the broker's bonus conditions.

What is the maximum bonus offered under the cashback program?

There is no maximum limit for the cashback bonus. Traders are entitled to $15 per lot, but you must manually activate the feature through the personal area settings of your account dashboard.

How do I take part in FBS forex contests?

You can enroll in any live contest by signing up through the account dashboard.
Should You Opt for an FBS Bonus?
---
With the amazing number of choices and a great bonus structure, FBS traders are really spoiled for choice. Of course, the broker has a few guidelines regarding the usage and withdrawal of the bonus money, but they are more lenient and safer than other bonus programs. FBS is also a highly regulated broker, which increases the trader's sense of security while dealing with the company.
Although there are excellent FBS bonuses that can help you tackle the markets more effectively, you should also take a few precautions against the pitfalls. Some bonuses are highly risky, especially with regard to trading requirements that are mandated to qualify for a bonus and a withdrawal. Therefore, you should always consider the implications of the forex offers before accepting the terms and conditions.