How To Sign Up And Claim The Markets.Com Promotion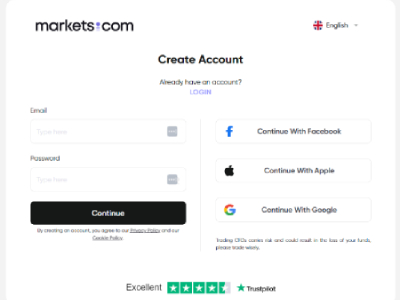 The broker's account registration process is quite elaborate and slightly time-consuming, but the entire process is intuitive and easy to complete. You will obviously need to register an account to claim the Markets.com promotion. You can do so by clicking on the 'Sign Up' link on their website or tapping on the 'Open an Account' button on the mobile website or their proprietary mobile trading app.
It takes traders straight to the account registration page, which asks the trader to enter their personal information, residential address, employment status, profession, net worth, source of funds, annual income, intended investment, nature of trading, education background, trading experience, and more.
Once you submit all the relevant information, you will have to read through the broker's terms and conditions, after which you should accept them and confirm your application process. You will receive an email if you have successfully completed your registration, but you still have to verify your identity to deposit funds and start trading. To do so, you must upload scanned documents of your identifying papers, such as your passport, bank account statement, utility bill, and any other document that can prove your credentials. Once your account is active and fully verified, you can proceed with your deposit and claim your bonus.
A Brief Outline of the Markets Com Bonuses & Promotions
We performed extensive research into the rewards program of the company, and we regret to inform you that the promotions are not as extensive as some of the other brokers in the market, such as FBS, AVATrade, and HYCM. As we revealed earlier, the broker is one of the strictly regulated companies in the market, which prevents it from hosting any type of promotional program. Of course, it is in stark contrast to the Markets.com brokerage of the earlier years, when there were a few bonuses that gave its peers a run for their money. Nevertheless, at present, there are a few bonuses offered by the broker's international division, which are outlined below:
Markets.com First Deposit Bonus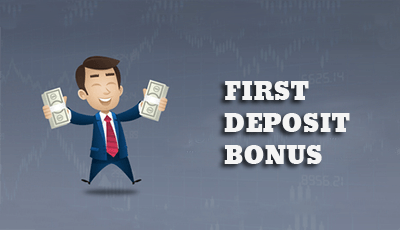 The Markets.com deposit bonus is offered only through the broker's FSCA brokerage division based out of South Africa and a branch located in the BVI. The South African division of the brokerage currently runs a promotion that offers up to 35% free trading credits on a minimum deposit of $100. The maximum bonus available through the offer is $3,500, which requires a minimum investment of $10,000. The offer is quite substantial for traders, but the only drawback is that such an offer is only available to traders residing in South Africa and other countries that are accepted by the said brokerage.
The free trading credits can be withdrawn, but traders will have to complete a minimum required transaction volume within 90 days of receiving the award. The current restrictions stipulate that a trader must trade a minimum of $10,000 in trading volumes for every $1 issued as a bonus. Therefore, for a $100 free credit, traders will be required to execute at least $1,000,000 in trading volumes. The higher the bonus, the higher the trading requirement, so make sure that you can accumulate the required trading volumes before signing up for the offer.
Market.com Rebates Program
The company's rebate program is designed to offer a cashback to traders from the spreads charged by the broker. The maximum rebate offered is 5% of the spreads charged on every closed trade, which is paid to traders every ten days. All traders are automatically enrolled in the rebates program, as soon as they make their first deposit. There aren't many terms and conditions for this program, apart from the fair use policy, where traders are prevented from abusing the system by opening multiple trading accounts and placing similar trades on all platforms.
Switching Bonus
It is an incentive program, where traders are offered an incentive to switch from their existing broker to Markets.com. The switching bonus offers the highest deposit bonus of up to $3,500, where traders are eligible for a 35% bonus for switching to a Markets.com account. All the terms and conditions of the program are similar to the ones prescribed for a first deposit bonus offer, and traders are expected to follow the minimum trading requirements to be eligible to withdraw the free trading credits.
Markets.com Refer-A-Friend Bonus
The company is currently paying out a referral bonus of anywhere from $50 to $1000 for every qualified referral that a trader sends to the brokerage. The referral must be unique, related to the referrer in some form, and should not have had any past relationship with the company, either by way of employment or as a customer. However, some conditions are associated with such a promotional campaign, and every trader must adhere to them while participating. The referral must open an account, verify their identity, avoid premature withdrawal of funds, and abide by the broker's rules, or the company reserves the right to cancel the reward.
There are four different categories of the refer-a-friend program. The first category is reserved for referred clients depositing anywhere from $100 to $500, which earns the referrer a one-time $50 payment or a $250 bonus as trading credits. The referred client must also trade a minimum of 5 lots for the referrer to be eligible for the bonus money. The second category is offered to referrers who refer clients that can deposit $500 to $1000 and trade at least 15 lots. Here, the referrer stands to earn a one-time payment of $150 or a bonus of $500.
The third refer-a-friend bonus category offers the referrer a one-time payment of $250 or a bonus credit of $750. To achieve this, the referred client must deposit anywhere from $1000 to $2000 and trade a minimum of 30 lots. Finally, the fourth category offers the maximum earning potential for the referrer, which offers a one-time payment of $375 per referral or a bonus trading credit of $2000. Referrers must deposit at least $2000 and trade at least 50 lots. The one-time payment can be withdrawn anytime without restrictions, but the trading credits can only be withdrawn as per company policies, which will be determined on an individual basis.
Markets.com Rewards Terms & Conditions
As with any other Forex and CFD broker, Markets-com has a few signups and trading conditions for its promotional programs. These conditions are not exclusive, as they can be amended or changed from time to time.
Traders from certain countries, such as the US and India, cannot open an account at the broker.
The minimum trading volumes must be accumulated within 90 days of receiving the bonus.
The trading offers and rewards are restricted to only one per household.
In a scenario where traders lose their entire trading capital on their trades, aside from the bonus, the broker freezes such accounts from initiating any withdrawal requests. The broker, at their discretion, can also remove the free trading credits in such an instance.
The broker will not tolerate any form of abuse, and strict action will be taken against traders who avail multiple bonuses through different accounts.
Markets.com will not waive any of its terms and conditions related to its rewards programs.
"Trading CFDs carries a considerable risk of capital loss. Please trade wisely."
Benefits of Signing up for Markets.com Bonuses
Although there are benefits of signing up for a free credits program, we consider Markets.com to be a top choice for online Forex trading. Therefore, even without any forex bonus offers, we would certainly sign up for an account, but the only downside is that not all traders are allowed to subscribe to the broker's services.
Several countries are placed on the restricted list, which is unfortunate for traders from these countries. Regulatory restrictions also prevent the broker from offering any promotions to traders from the EU region. Nevertheless, the broker does have a few bonuses through its international brokerages, which may provide the much-needed boost for traders from the international community.
Markets.com Bonuses FAQ
Does the broker offer its promotions to all traders?
No, traders from certain countries are not allowed to sign up for the company's promotions or other offers.
Is there any Markets.com No Deposit Bonus?
No, but there is a free $20 for Australian clients, which is available for installing the company's mobile app.
What is the minimum trading requirement for all promotions?
Almost all promotions offered by the company stipulate a minimum trading volume of $10,000 for every $1 provided as free credit.
Can traders receive cashbacks or other loyalty rewards?
Yes, the broker does provide a cashback offer, but there aren't any other loyalty programs.