An Overview of the FXTM Bonuses & Promotions
FXTM, as a global broker with regulatory licenses issued by multiple regulators, has developed country-specific bonus programs for different regions across the globe. Some jurisdictions, such as Europe, are entirely devoid of any ForexTime promotions. At the same time, traders in Asia and the Middle East do get access to some of the best promotional offers provided by the company. Given below is the list of the current FXTM bonuses, but some of them may only be available in a seasonal manner. FXTM reserves the right to launch or withdraw any offers from its website without notice. Hence, make sure you check the validity of the bonus program before registering for an account.
FXTM Deposit Bonus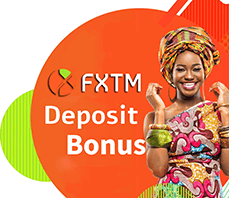 A deposit bonus is usually the most basic promotional offer advertised by most brokers, but FXTM only offers such a bonus program on a seasonal basis. The deposit bonus is also reserved for traders from certain countries, but it can vary from season to season. Under normal circumstances, FXTM provides a 30% bonus on deposits, which means that traders are eligible to receive up to a maximum of $300 bonus for a $1000 deposit.
At times, FXTM may refrain from offering a bonus altogether. However, fret not, as you can sign up for the bonus once they launch their program, even if you are an existing trader. All you have to do is deposit the minimum amount of money required for availing the bonus and accept the FXTM bonus T&C. You can also stay in the loop by subscribing to their promotional campaign emails, which will notify you of any upcoming promotions that may be suitable for your requirements. Nevertheless, the actual bonus percentage can vary as per the broker's promotional policies, but you can expect anywhere from a 10% to 40% bonus on single or multiple deposits.
The deposit bonus is generally available for MT4 Standard, MT4 ECN, MT5 ECN, Cent, and the ECN Zero Accounts. As far as the trading requirements are concerned, traders must complete a minimum of [bonus amount * (2/10)] lots to be able to withdraw the funds available in their trading account. For instance, if you are opting for the full $300 bonus, you should trade a minimum of (300*0.2) 60 lots within 30 days to gain control over your entire trading capital. There is also a prerequisite that the trade duration must be higher than 5 minutes, which means that high-frequency scalpers who rarely hold trade positions for more than five minutes are ineligible for the deposit bonus.
If you fail to meet the minimum trading requirements, or if you initiate a withdrawal within 30 days from the date of deposit, FXTM will cancel the bonus, and you will be left only with your initial investment. Therefore, premature withdrawal during the bonus period can affect your minimum margin requirements, especially if you have positions open while performing a withdrawal. Nevertheless, the FXTM bonus trading conditions are pretty standard and in line with the industry guidelines, which gives us no reason to be worried.
FXTM Loyalty Program
The ForexTime Loyalty Program is a trading-based cashback offer that allows traders to earn rebates or cashbacks for their completed trades. It is just another promotional campaign to get traders to increase their trading frequency, which can be particularly useful for high-frequency traders who transact a large number of lots over a shorter period.
The amount of cashback/rebate and the frequency of payments depend on the loyalty level, which is categorized across five different tiers. The basic Level 1 is reserved for deposits that are worth anywhere from $1 to $15,000, where traders are eligible for a cashback of $2.6 per traded lot. The maximum payout for Level 1 traders is $500, and the rebates are paid out every Monday.
The Level 2 loyalty tier is reserved for deposits worth $15,001 to $30,000, where the rebate amount is slightly higher at $3.6 per traded lot. The maximum payout is also increased to $1,500, while the payout frequency remains the same as the Level 1 traders. For Level 3 traders, who deposits anywhere from $30,001 to $60,000, the rebate is $4.6 per lot, and the maximum payout is $3000. Level 4 and Level 5 tiers are more or less the same, as the rebate amount is $5.6 per traded lot.
However, Level 4 requires a deposit of $60,001 to $120,000, while Level 5 requires a deposit greater than $120,001. Level 4 traders are capable of earning up to $5000 in maximum rebates, which gets bumped up to $10,000 for Level 5 traders. However, we didn't come across any level where traders can earn up to $10 as promised by the broker through their promo banner, but it is not uncommon for brokers to exaggerate their claims and offers.
Traders will be automatically upgraded or downgraded to the respective levels as per their trading volumes and transaction sizes. There is also a minimum lot requirement for each level, which is 30 lots for Level 1, 60 lots for Level 2, 120 lots for Level 3, 200 lots for Level 4, and more than 200 lots for Level 5. All lot and trading requirements are calculated over 30 days, and the FXTM loyalty program automatically determines the level and the amount of cash back for each trader of a particular loyalty category. Of course, the loyalty program is also subject to the broker's T&C, and FXTM reserves the right to discontinue the loyalty program at any time.
FXTM Refer-A-Friend Bonus
Just like other brokers, for example FBS and AVATrade, ForexTime does offer an opportunity for its clients to refer people to the company and earn money in the process, but don't confuse the Refer-A-Friend bonus with the broker's affiliate program. The affiliate program is designed to offer an additional stream of revenue for marketers or traders by referring new users to the platform. In contrast, the Refer-A-Friend program is strictly designed for referring friends, relatives, or acquaintances. Although it is difficult for the broker to establish the relationship between the referrer and the referral, there is a certain degree of risk involved for both parties if the clients can't establish some form of a relationship between them.
The broker reserves the right to withdraw the bonus, block account, and even take away the deposit amount if they find their users to have misused the referral program. Of course, under normal circumstances, the company may be lenient in their actions towards its clients, but you can't afford to take the risk, especially when there is money involved. Therefore, carefully consider the differences between the two before referring traders to their platform.
The FXTM referral bonus offers up to $50 per referral, which can be $25 or $50, depending upon the traded lots. The referral bonus is paid out to both parties, but it will only be offered if both the referrer and the referral have verified their accounts, have made their first deposits, and have commenced trading.
The broker will calculate the number of lots traded by the referral, which should be a minimum of 3 lots for $25 and a minimum of 10 lots for $50. The free money will only be added to the accounts once the minimum traded lots have reached and can be used to trade or withdraw. Referrers are free to refer any number of referrals, but they can only earn a maximum of $10,000 through this program.
$30 Tradeable Credits – FXTM Welcome Bonus
The welcome bonus is a highly subjective ForexTime promotional offer that is reserved for new clients or for those who are switching their broker to FXTM. The basic requirement for the offer is that traders must open an account, verify their account, and make a deposit within six months of opening the account. Once the client meets these criteria, $30 will be added to the account as tradeable credits, which can be withdrawn after completing a minimum of 1 standard lot within six months of the first deposit.
However, all trades must have a duration of not less than 5 minutes, and they must also be in accordance with the broker's any other terms and conditions. Be warned, however, as the welcome offer is not available for all traders, and you must contact the customer service department to see whether you can enroll in the program.
FXTM Contests
Contests are great for earning free money, particularly for capable traders who are confident of beating the competition by achieving the maximum returns within the duration of the competition. ForexTime organizes different types of contests, both through live, as well as demo accounts. The prize money can reach up to $10,000 for first placed traders in a demo contest, while the prizes for real account contests can reach up to $20,000 for first placed traders.
Other prizes include tickets to sporting events, access to high-profile ceremonies at discounted rates, and other similar rewards. However, participation also guarantees significant prize money for other traders in the leader board as well, with the grand prize pool sometimes reaching up to $100,000.
FXTM Promotions Terms & Conditions
FXTM has a detailed T&C section for each of its promotional campaigns, with each offering in-depth insights into what is expected from traders when they avail of a bonus. Although most of the trading conditions are unique, here are some of the basic terms and conditions that you must keep in mind before signing up for an offer:
All account holders must verify their accounts to be able to take part in any promotional offer.
Bonuses are only provided after making a valid deposit, and in some cases, only after transacting the minimum number lots within a predetermined duration.
All trades must be open for at least five minutes.
Bonuses are restricted to one per household.
Premature withdrawal of the trading capital or lack of adherence to the T&C can lead to the removal of the bonus.
ForexTime reserves the right to issue, modify, or remove any offers as per its discretion.
ForexTime Offers FAQ
Can I Recieve an FXTM No Deposit Bonus for Forex Trading?
No, FXTM offers a $30 tradeable credit only to traders that have made their first deposit to a verified account.
Can I Make Money from FXTM Contests?
Yes, there are different ForexTime contests for both live and demo accounts, where the ultimate prize money can be worth up to $20,000.
Is There An FXTM Loyalty Program?
The ForexTime loyalty program is available for all traders, where you can receive cashbacks in the form of rebates for completing a required number of traded lots.
Are FXTM Bonuses Withdrawable?
Yes, you can withdraw the free trading credits by trading the minimum required lots, as stipulated in the particular promotional T&C.
Should an FXTM Bonus Be a Prerequisite for Opening an Account?
Traders join FXTM for the quality and reliability of their services, and certainly not in the hope of availing a massive bonus. While we have come across companies that take the risk of providing significant bonuses, despite their regulatory compliance requirements, FXTM is more oriented towards ensuring compliance in everything that they do. Of course, the lack of any generous promotional offers or rewards may inhibit several traders from signing up for an account. However, we feel that the current set of rewards and benefits may be sufficient for a large part of the trading community, particularly when we consider the overall reliability of the Forex broker.